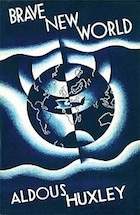 RATING: 9/10…READ: August 29, 2012
Aldous Huxley's classic work on the Dystopian future of the world. Written in 1932, his predictions from Prescription Drugs, Genetic Engineering, and the Loss of Reading books still makes this novel relevant today.
Notes:
XIV—Can the human beings—real happiness?
8—The theme of—human individuals
11—The Greatest Triumphs—rebuttals
-"And that," put in the Director sententiously, "that is the secret of happiness and virtue-liking what you've got to do. All conditioning aims at that: making people like their unescapable social destiny."
-Primroses and landscapes, he pointed out, have one grave defect: they are gratuitous. A love of nature keeps no factories busy. It was decided to abolish the love of nature, at any rate among the lower classes; to abolish the love of nature, but not the tendency to consume transport.
-You can't learn science unless you know what it's all about.
-Moral education, which ought never in any circumstances be rational.
-When you're not accustomed to history, most facts about the past do sound incredible."
-He waved his hand; and it was as though, with an invisible feather wisk, he had brushed away a little dust, and the dust was Harappa, was Ur of the Chal- dees; some spider-webs, and they were Thebes and Babylon and Cnossos and Mycenae. Whisk. Whisk-and where was Odysseus, where was Job, where were Jupiter and Gotama and Jesus? Whisk-and those specks of antique dirt called Athens and Rome, Jerusalem and the Middle Kingdom-all were gone. Whisk- the place where Italy had been was empty. Whisk, the cathedrals; whisk, whisk, King Lear and the Thoughts of Pascal. Whisk, Passion; whisk, Requiem; whisk, Symphony; whisk.
-"Try to imagine what 'living with one's family' meant."
They tried; but obviously without the smallest success.
"And do you know what a 'home' was?"
They shook their heads.
-Mother, monogamy, romance. High spurts the fountain; fierce and foamy the wild jet. The urge has but a single outlet. My love, my baby. No wonder these poor pre-moderns were mad and wicked and miserable. Their world didn't allow them to take things easily, didn't allow them to be sane, virtuous, happy. What with mothers and lovers, what with the prohibitions they were not conditioned to obey, what with the temptations and the lonely remorses, what with all the diseases and the endless isolating pain, what with the uncertainties and the poverty-they were forced to feel strongly. And feeling strongly (and strongly, what was more, in solitude, in hopelessly individual isolation), how could they be stable?
-"Stability," said the Controller, "stability. No civilization without social stability. No social stability without individual stability."
-Those who meant well behaved in the same way as those who meant badly.
-Words can be like X-rays, if you use them properly-they'll go through anything. You read and you're pierced. That's one of the things I try to teach my students-how to write piercingly. But what on earth's the good of being pierced by an article about a Community Sing, or the latest improvement in scent organs? Besides, can you make words really piercing-you know, like the very hardest X-rays- when you're writing about that sort of thing? Can you say something about nothing? That's what it finally boils down to. I try and I try ."
-But Lenina was crying. "It's horrible, it's horrible," she kept repeating. "And how can you talk like that about not wanting to be a part of the social body? After all, every one works for every one else. We can't do without any one. Even Epsilons ."
-The group was now complete, the solidarity circle perfect and without flaw. Man, woman, man, in a ring of endless alternation round the table. Twelve of them ready to be made one, waiting to come together, to be fused, to lose their twelve separate identities in a larger being.
-Wasn't it simply wonderful?" She looked at Bernard with an expression of rapture, but of rapture in which there was no trace of agitation or excitement-for to be excited is still to be unsatisfied. Hers was the calm ecstasy of achieved consummation, the peace, not of mere vacant satiety and nothingness, but of balanced life, of energies at rest and in equilibrium. A rich and living peace. For the Solidarity Service had given as well as taken, drawn off only to replenish. She was full, she was made perfect, she was still more than merely herself. "Didn't you think it was wonderful?" she insisted, looking into Bernard's face with those supernaturally shining eyes.
-Pretty harmless, perhaps; but also pretty disquieting. That mania, to start with, for doing things in private. Which meant, in practice, not doing anything at all. For what was there that one could do in private. (Apart, of course, from going to bed: but one couldn't do that all the time.) Yes, what was there? Precious little.
-"I'd rather be myself," he said. "Myself and nasty. Not somebody else, however jolly."
-He laughed, "Yes, 'Everybody's happy nowadays.' We begin giving the children that at five. But wouldn't you like to be free to be happy in some other way, Lenina? In your own way, for example; not in everybody else's way."
-"Well, here," the other went on, "no- body's supposed to belong to more than one person. And if you have people in the ordinary way, the others think you're wicked and anti-social. They hate and despise you.
-Unorthodoxy threatens more than the life of a mere individual; it strikes at Society itself.
-"A New Theory of Biology" was the title of the paper which Mustapha Mond had just finished reading. He sat for some time, meditatively frowning, then picked up his pen and wrote across the title-page: "The author's mathematical treatment of the conception of purpose is novel and highly ingenious, but heretical and, so far as the present social order is concerned, dangerous and potentially subversive. Not to be published." He underlined the words. "The author will be kept under supervision. His transference to the Marine Biological Station of St. Helena may become necessary." A pity, he thought, as he signed his name. It was a masterly piece of work. But once you began admitting explanations in terms of purpose-well, you didn't know what the result might be. It was the sort of idea that might easily decondition the more unsettled minds among the higher castes-make them lose their faith in happiness as the Sovereign Good and take to believing, instead, that the goal was somewhere beyond, somewhere outside the present human sphere, that the purpose of life was not the maintenance of well-being, but some intensification and refining of consciousness, some enlargement of knowledge. Which was, the Controller reflected, quite possibly true. But not, in the present circumstance, admissible. He picked up his pen again, and under the words "Not to be published" drew a second line, thicker and blacker than the first; then sighed, "What fun it would be," he thought, "if one didn't have to think about happiness!"
-"Well, I'd rather be unhappy than have the sort of false, lying happiness you were having here."
-The Controller shrugged his shoulders. "Because it's old; that's the chief reason. We haven't any use for old things here."
"Even when they're beautiful?"
"Particularly when they're beautiful. Beauty's attractive, and we don't want people to be attracted by old things. We want them to like the new ones."
"But the new ones are so stupid and horrible. Those plays, where there's nothing but helicopters flying about and you feel the people kissing." He made a grimace. "Goats and monkeys!" Only in Othello's word could he find an adequate vehicle for his contempt and hatred.
-"Because our world is not the same as Othello's world. You can't make flivvers without steel-and you can't make tragedies without social instability. The world's stable now. People are happy; they get what they want, and they never want what they can't get. They're well off; they're safe; they're never ill; they're not afraid of death; they're blissfully ignorant of passion and old age; they're plagued with no mothers or fathers; they've got no wives, or children, or lovers to feel strongly about; they're so conditioned that they practically can't help behaving as they ought to behave. And if anything should go wrong, there's soma.
-But that's the price we have to pay for stability. You've got to choose between happiness and what people used to call high art. We've sacrificed the high art. We have the feelies and the scent organ instead."
-"But I like the inconveniences."
"We don't," said the Controller. "We prefer to do things comfortably."
"But I don't want comfort. I want God, I want poetry, I want real danger, I want freedom, I want goodness. I want sin."
"In fact," said Mustapha Mond, "you're claiming the right to be unhappy."
"All right then," said the Savage defiantly, "I'm claiming the right to be unhappy."
"Not to mention the right to grow old and ugly and impotent; the right to have syphilis and cancer; the right to have too little to eat; the right to be lousy; the right to live in constant apprehension of what may happen to- morrow; the right to catch typhoid; the right to be tortured by unspeakable pains of every kind." There was a long silence.
"I claim them all," said the Savage at last.