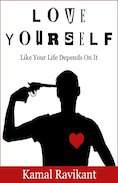 RATING: 7/10…READ: April 25, 2013
A short read on chilling the fuck out and loving yourself. With all the self help platitudes and exercises, this book is quick and simple…what would you do, how would you act if you loved yourself?
Notes:
"I don't do a post now unless I'm worried about what people will think about me."
"This day, I vow to myself to love myself, to treat myself as someone I love truly and deeply – in my thoughts, my actions, the choices I make, the experiences I have, each moment I am conscious, I make the decision I LOVE MYSELF."
So I ask myself the question, "if I loved myself, truly and deeply, what would I do?"
The key, at least for me, has been to let go.  Let go of the ego, let go of attachments, let go of who I think I should be, who others think I should be.  And as I do that, the real me emerges, far far better than the Kamal I projected to the world.  There is a strength in this vulnerability that cannot be described, only experienced.
Real growth comes through intense, difficult, and challenging situations.
Suffering is when we resist the moment.