Many planners excel at helping you organize your week, but what about actually getting important work done? That was the challenge when designing the Productivity Planner. The goal was to condense a prioritized to-do list, emphasizing completing your most important task first, with the Pomodoro technique to use your time effectively.
As I came on board, Alex and UJ had a basic structure of the day pages and outline of the introduction. I came on to help refine the daily and weekly structure, provide heavy edits to the introduction, and supply all daily quotes throughout.
We went back and forth on different names (Big Win Planner, MIT Planner, 5 Minute Planner), but ultimately Productivity Planner won out after testing Facebook Ads.
Once the planner was created, we decided to launch it on Kickstarter. With just under a month, I was tasked with writing all copy for the Productivity Planner Kickstarter page and layout, writing emails leading up to launch, running an ultimate productivity giveaway, creating a quickstart guide version of the planner, and reaching out to influencers in our space.
With an initial funding goal of $10,000, the Productivity Planner Kickstarter did $126,000, over 12x the original goal.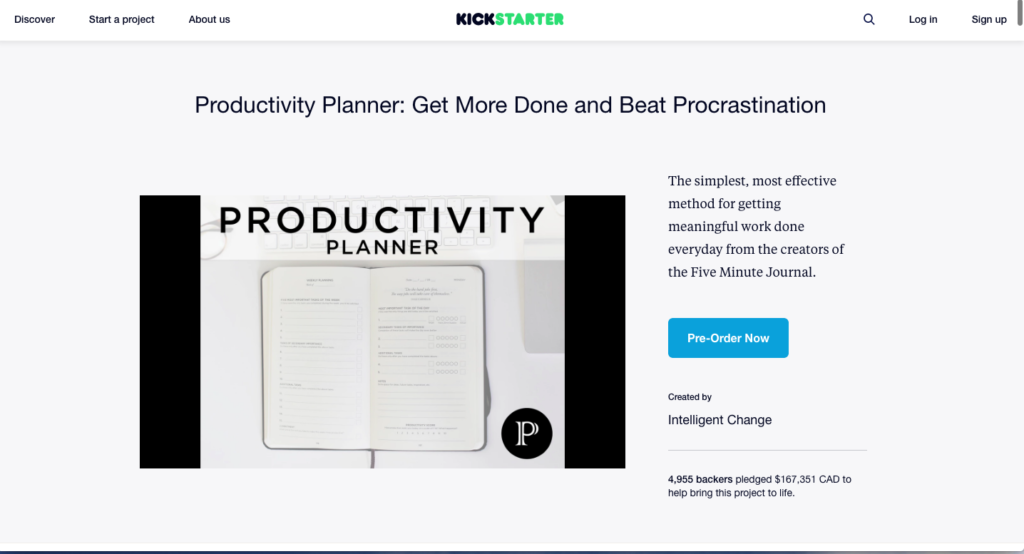 After having an initial landing page hosted on a squarespace site, it was time to set the Productivity Planner up on Intelligentchange.com and Amazon. I was responsible for writing all web copy for the Productivity Planner product page and creating and writing all copy for our Amazon listing.