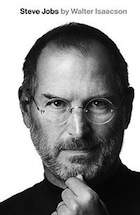 RATING: 7/10…READ: November 7, 2011
The man, the myth, the legend…Steve Jobs. If you haven't read much into the life of Job's life, you're in for a page turner. A solid bio by Isaacson.
Notes:
Jobs said that his appreciation for Eichler homes instilled in him a passion for making nicely designed products for the mass market. "I love it when you can bring really great design and simple capability to something that doesn't cost much," he said as he pointed out the clean elegance of the houses. "It was the original vision for Apple. That's what we tried to do with the first Mac. That's what we did with the iPod."
Jobs also became deeply influenced by the emphasis that Buddhism places on intuition. "I began to realize that an intuitive understanding and consciousness was more significant than abstract thinking and intellectual logical analysis," he later said.
"One of his numbers was to stare at the person he was talking to. He would stare into their fucking eyeballs, ask some question, and would want a response without the other person averting their eyes."
Taking LSD was a profound experience, one of the most important things in my life. LSD shows you that there's another side to the coin, and you can't remember it when it wears off, but you know it. It reinforced my sense of what was important—creating great things instead of making money, putting things back into the stream of history and of human consciousness as much as I could."
If you trust him, you can do things," Holmes said. "If he's decided that something should happen, then he's just going to make it happen."
Markkula wrote his principles in a one-page paper titled "The Apple Marketing Philosophy" that stressed three points. The first was empathy, an intimate connection with the feelings of the customer: "We will truly understand their needs better than any other company." The second was focus: "In order to do a good job of those things that we decide to do, we must eliminate all of the unimportant opportunities." The third and equally important principle, awkwardly named, was impute. It emphasized that people form an opinion about a company or product based on the signals that it conveys. "People DO judge a book by its cover," he wrote. "We may have the best product, the highest quality, the most useful software etc.; if we present them in a slipshod manner, they will be perceived as slipshod; if we present them in a creative, professional manner, we will impute the desired qualities."
"His obsession is a passion for the product, a passion for product perfection."
When Jobs did not want to deal with a distraction, he sometimes just ignored it, as if he could will it out of existence. At times he was able to distort reality not just for others but even for himself.
The Apple raid on Xerox PARC is sometimes described as one of the biggest heists in the chronicles of industry. Jobs occasionally endorsed this view, with pride. As he once said, "Picasso had a saying—'good artists copy, great artists steal'—and we have always been shameless about stealing great ideas."
"How many of you are virgins?" he asked. There were nervous giggles. "How many of you have taken LSD?" More nervous laughter, and only one or two hands went up. Later Jobs would complain about the new generation of kids, who seemed to him more materialistic and careerist than his own. "When I went to school, it was right after the sixties and before this general wave of practical purposefulness had set in," he said. "Now students aren't even thinking in idealistic terms, or at least nowhere near as much."
Jobs again reiterated that lesson from his father: "When you're a carpenter making a beautiful chest of drawers, you're not going to use a piece of plywood on the back, even though it faces the wall and nobody will ever see it. You'll know it's there, so you're going to use a beautiful piece of wood on the back. For you to sleep well at night, the aesthetic, the quality, has to be carried all the way through."
At the end of the presentation someone asked whether he thought they should do some market research to see what customers wanted. "No," he replied, "because customers don't know what they want until we've shown them."
Gates was good at computer coding, unlike Jobs, and his mind was more practical, disciplined, and abundant in analytic processing power. Jobs was more intuitive and romantic and had a greater instinct for making technology usable, design delightful, and interfaces friendly. He had a passion for perfection, which made him fiercely demanding, and he managed by charisma and scattershot intensity. Gates was more methodical; he held tightly scheduled product review meetings where he would cut to the heart of issues with lapidary skill. Both could be rude, but with Gates—who early in his career seemed to have a typical geek's flirtation with the fringes of the Asperger's scale—the cutting behavior tended to be less personal, based more on intellectual incisiveness than emotional callousness. Jobs would stare at people with a burning, wounding intensity; Gates sometimes had trouble making eye contact, but he was fundamentally humane.
You have to be ruthless if you want to build a team of A players. "It's too easy, as a team grows, to put up with a few B players, and they then attract a few more B players, and soon you will even have some C players," he recalled. "The Macintosh experience taught me that A players like to work only with other A players, which means you can't indulge B players."
When Jobs asked for a number of options to consider, Rand declared that he did not create different options for clients. "I will solve your problem, and you will pay me," he told Jobs. "You can use what I produce, or not, but I will not do options, and either way you will pay me."
Even at a young age Lisa began to realize his diet obsessions reflected a life philosophy, one in which asceticism and minimalism could heighten subsequent sensations. "He believed that great harvests came from arid sources, pleasure from restraint," she noted. "He knew the equations that most people didn't know: Things led to their opposites."
When it came to women, Jobs could be deeply romantic. He tended to fall in love dramatically, share with friends every up and down of a relationship, and pine in public whenever he was away from his current girlfriend.
She accused him of being too influenced by the Bauhaus movement. "Steve believed it was our job to teach people aesthetics, to teach people what they should like," she recalled. "I don't share that perspective. I believe when we listen deeply, both within ourselves and to each other, we are able to allow what's innate and true to emerge."
Jobs could be charming to people he hated just as easily as he could be insulting to people he liked.
For all of his willfulness and insatiable desire to control things, Jobs was indecisive and reticent when he felt unsure about something. He craved perfection, and he was not always good at figuring out how to settle for something less. He did not like to wrestle with complexity or make accommodations. This was true in products, design, and furnishings for the house. It was also true when it came to personal commitments. If he knew for sure a course of action was right, he was unstoppable. But if he had doubts, he sometimes withdrew, preferring not to think about things that did not perfectly suit him.
"Deciding what not to do is as important as decide what to do," he said. "That's true for companies, and it's true for products."
Despite his autocratic nature—he never worshipped at the altar of consensus—Jobs worked hard to foster a culture of collaboration at Apple. Many companies pride themselves on having few meetings. Jobs had many: an executive staff session every Monday, a marketing strategy session all Wednesday afternoon, and endless product review sessions. Still allergic to PowerPoints and formal presentations, he insisted that the people around the table hash out issues from various vantages and the perspectives of different departments.
For most things in life, the range between best and average is 30% or so. The best airplane flight, the best meal, they may be 30% better than your average one.
"When technology enables something new, he wants to take advantage of that," said Johnson. "Plus, for Steve, less is always more, simpler is always better. Therefore, if you can build a glass box with fewer elements, it's better, it's simpler, and it's at the forefront of technology. That's where Steve likes to be, in both his products and his stores."
Despite being a denizen of the digital world, or maybe because he knew all too well its isolating potential, Jobs was a strong believer in face-to-face meetings. "There's a temptation in our networked age to think that ideas can be developed by email and iChat," he said. "That's crazy. Creativity comes from spontaneous meetings, from random discussions. You run into someone, you ask what they're doing, you say 'Wow,' and soon you're cooking up all sorts of ideas."
The compensation issue in some ways echoed Jobs's parking quirk. He refused such trappings as having a "Reserved for CEO" spot, but he assumed for himself the right to park in the handicapped spaces. He wanted to be seen (both by himself and by others) as someone willing to work for $1 a year, but he also wanted to have huge stock grants bestowed upon him. Jangling inside him were the contradictions of a counterculture rebel turned business entrepreneur, someone who wanted to believe that he had turned on and tuned in without having sold out and cashed in.
"I realized very early that if you didn't voice your opinion, he would mow you down," said Cook. "He takes contrary positions to create more discussion, because it may lead to a better result. So if you don't feel comfortable disagreeing, then you'll never survive."
The key venue for freewheeling discourse was the Monday morning executive team gathering, which started at 9 and went for three or four hours. The focus was always on the future: What should each product do next? What new things should be developed? Jobs used the meeting to enforce a sense of shared mission at Apple. This served to centralize control, which made the company seem as tightly integrated as a good Apple product, and prevented the struggles between divisions that plagued decentralized companies.
"If he was displeased, he might scream and get hopping mad and use expletives, but he wouldn't do it in a way that would totally destroy the person he was talking to. It was just his way to get the person to do a better job."
In his piece Grossman correctly noted that the iPhone did not really invent many new features, it just made these features a lot more usable. "But that's important. When our tools don't work, we tend to blame ourselves, for being too stupid or not reading the manual or having too-fat fingers. . . . When our tools are broken, we feel broken. And when somebody fixes one, we feel a tiny bit more whole."
Page came over, sat in Jobs's living room, and listened to his ideas on building great products and durable companies. Jobs recalled:
–We talked a lot about focus. And choosing people. How to know who to trust, and how to build a team of lieutenants he can count on. I described the blocking and tackling he would have to do to keep the company from getting flabby or being larded with B players. The main thing I stressed was focus. Figure out what Google wants to be when it grows up. It's now all over the map. What are the five products you want to focus on? Get rid of the rest, because they're dragging you down. They're turning you into Microsoft. They're causing you to turn out products that are adequate but not great. I tried to be as helpful as I could. I will continue to do that with people like Mark Zuckerberg too. That's how I'm going to spend part of the time I have left. I can help the next generation remember the lineage of great companies here and how to continue the tradition. The Valley has been very supportive of me. I should do my best to repay.
This intensity encouraged a binary view of the world. Colleagues referred to the hero/shithead dichotomy. You were either one or the other, sometimes on the same day. The same was true of products, ideas, even food: Something was either "the best thing ever," or it was shitty, brain-dead, inedible. As a result, any perceived flaw could set off a rant. The finish on a piece of metal, the curve of the head of a screw, the shade of blue on a box, the intuitiveness of a navigation screen—he would declare them to "completely suck" until that moment when he suddenly pronounced them "absolutely perfect." He thought of himself as an artist, which he was, and he indulged in the temperament of one.
He attributed his ability to focus and his love of simplicity to his Zen training. It honed his appreciation for intuition, showed him how to filter out anything that was distracting or unnecessary, and nurtured in him an aesthetic based on minimalism.
Some people say, "Give the customers what they want." But that's not my approach. Our job is to figure out what they're going to want before they do. I think Henry Ford once said, "If I'd asked customers what they wanted, they would have told me, 'A faster horse!'" People don't know what they want until you show it to them. That's why I never rely on market research. Our task is to read things that are not yet on the page.
People pay us to integrate things for them, because they don't have the time to think about this stuff 24/7. If you have an extreme passion for producing great products, it pushes you to be integrated, to connect your hardware and your software and content management. You want to break new ground, so you have to do it yourself. If you want to allow your products to be open to other hardware or software, you have to give up some of your vision.
I hate it when people call themselves "entrepreneurs" when what they're really trying to do is launch a startup and then sell or go public, so they can cash in and move on. They're unwilling to do the work it takes to build a real company, which is the hardest work in business. That's how you really make a contribution and add to the legacy of those who went before. You build a company that will still stand for something a generation or two from now. That's what Walt Disney did, and Hewlett and Packard, and the people who built Intel. They created a company to last, not just to make money. That's what I want Apple to be.