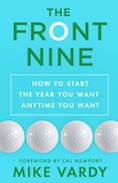 RATING: 1/10…READ: January 14, 2013
A time management book that stretches the metaphor of golfing throughout that wears thin after about 5 pages. While I believe books on time management should be short, the content in this book feels more rah rah more than anything else.
THE FRONT NINE
PART I – THE DRIVE
How well you start is important i.e. picking the right things to focus on matters a shit ton.
-While the first step is important, it isn't that end-all-be-all. The biggest risk involved in taking the first step is just doing it.
If you hurry up the process of moving forward with the first shot, then your chances of putting yourself in a better position for the next one is greatly decreased. Be as prepared as possible for the first shot. Be as precise as possible for the first shot.
*Think getting a B on your first math class, there is still a 10-20% gap in knowledge that will exponentially accumulate over time if you don't focus on properly learning and understanding each step.
PART II – THE FAIRWAY
Limit your choices. "Hell yeah" or "No"
Staying still and exploring all of your options doesn't move you forward nearly as much as moving forward after using the tried and true tool that is best at that point in time to get there.
If you're thinking about purging some of your tools, stop first and think about what really needs doing first. Get the work done first, then evaluate how you've been doing the work and see what you can do to improve it:
1. Set up your system and tools
2. Set forth to accomplish what you're using your system and tools to do.
3. Set aside time to fine-tune the system and tools afterward (weekly/monthly checkin)*
*THE ORDER OF THIS PROCESS IS CRUCIAL
Time Chunk your week—pick specific days to get things done—i.e. Sunday and Monday Projects and Ideas—Tuesday and Wednesday Socializing—Thursday writing—Friday and Saturday Off
PICKING YOUR NEXT MOVE: I-D-E-A FRAMEWORK
I—Ideals that I hold must be kept to when pursuing it
D—Does not interfere with anything else that I am excited about (should complement the rest of my goals in some form or another)
E—Excitement about the idea must be lasting
A—Able to generate direct or passive income
THE "FUCK IT" LIST: things you are afraid to do—or were afraid to do, but realized that you wouldn't be complete without doing them.
TOUCH MUDDER CREDO: "I understand that Tough Mudder is not a race, but is a challenge. I put teamwork and camaraderie before my course time. I do not whine—kids whine. I help my fellow Mudders complete the course. I overcome all fears.
PART THREE: THE GREEN
Priorities: "One hundred years from now it will not matter what my bank account was, the sort of house I lived in or the car I drove…but the world may be different because I was important in the life of a child."
Am I making changes just for the sake of progress or actually helping me change into the person I want to become / get the results I want? –i.e. if I have been doing bicep curls for the past month and don't see any progress, is my system faulty?
Your version of simplicity is what best works for you. i.e. you may be an night owl while another person works better in the morning. One person uses electronic tools while you use a notebook.
RETHINKING THE TO-DO LIST:
Imagine creating two to three variations of it—starting with the one that is filled to the brim with tasks that can lead you astray.
Then the second one has fewer tasks, allowing you to get to where you want to go that much sooner.
Finally, think of a third iteration of the list. The one that is as direct at possible.